Ultimate Bundles is a hugely popular affiliate program, particularly with bloggers and social media aficionados.
The concept is simple. The Ultimate Bundles team collaborate and bring together leading content creators with digital products like eBooks and eCourses.
They then package lots of good content and resources together and sell it as a complete super bundle with an affordable price tag.
Some of the bundles are available throughout the year (known as evergreen bundles) whereas others bundles are released annually and only available for purchase within a time-limited window.
Evergreen Bundles
Currently, the Evergreen bundles are:
Herbs & Essential Oils Super Bundle
Master Your Money Super Bundle
Ultimate Productivity Bundle
Healthy Meal Planning Bundle
Annual Bundle Releases
Some bundles are released annually and available for purchase within a strict timeframe.
Examples include:
Photography Super Bundle
Women's Health Bundle
Grow Your Business Bundle
Genius Bloggers Toolkit Bundles
There are various bundles released throughout the entire year.
Signed-up Affiliates promote bundles and make a commission for any sales generated.
Is the Ultimate Bundles Affiliate Program A Good Fit for You?
The affiliate program is a great fit for those wishing to make extra income from a blog, website or social media channel, simply by referring people to the Ultimate Bundles website. If the person makes a purchase, then you, as the referrer receive a commission.
There should be at least one bundle (even if only the Genius Bloggers Toolkit) that will be relevant to you.
It's easy and free to sign up as an affiliate, and Ultimate Bundles accept most applications, even if you currently have little or no traffic.
How Much Do Ultimate Bundles Pay For A Referral?
Ultimate Bundles will pay you a commission of 40% for every single referral that converts to a paying customer.
The amount paid depends on which bundle the referred person buys. If you becoming a contributor to a bundle, then your commission is ramped up to a whopping 70% per sale.
In addition, Ultimate Bundles is a two-tier affiliate program. This means that if you recruit other affiliates, then you'll earn 10% of their first year's sales. (This comes out of the central pot – the recruited affiliate still gets their regular percentage).
The Ultimate Bundles Cookie
When you sign up for the Ultimate Bundles Affiliate Program, you receive unique tracking links for the various bundles you can promote. Each link contains a unique Affiliate ID, so the merchant knows you sent traffic arriving on their website.
You use the tracking links on your website, within your email campaigns or on social media to direct visitors to the Ultimate Bundles website or to an individual bundle page.
The merchant (Ultimate Bundles) stores your affiliate ID in a tiny text file (known as a cookie) in the visitor's web browser. Cookies are used to track website visitors.
Every cookie has an expiry date; likewise, Ultimate Bundles puts a 30 Day Expiry on their cookie.
What this means in simple terms, is that if the person you referred purchases a bundle within 30 days then you get credited with the sale. The credit happens even if they didn't click your link during future visits.
The period is known as the "Cookie Life" and 30 days is fairly average.
How and When Do You Get Paid?
Payments are sent to affiliates via PayPal on the 11th of the second month after the sale date. For example, January earnings will be sent on March 11th, February's will be sent April 11th, and so on.
Ultimate Bundles Affiliate Program (in a nutshell)
Merchant Information: Ultimate Bundles
Program Type:
Cost Per Sale (CPS) – You earn a commission when the merchant makes a sale.
Tiers:
Ultimate Bundles offers a two tier affiliate program.
Earnings / Commission:
Standard Commissions are 40% of the sale. The size of the commission depends on the value of the plan taken out by the referred person. If you are a contributor to the contents of any of the bundles then you receive a 70% commission.

if you have recruited an affiliate, then you'll receive 10% of any sales they make for their first year.
Payment Schedule:
Payments are made on the 11th of the second month after the sale date
Payment Method:
Ultimate Bundles pays commissions via PayPal.
Cookie Life:
The Ultimate Bundles Cookie Life is 30 Days.
Affiliate Marketing Materials / Training:
Ultimate Bundles offers a huge range of banners and links to assist you with your promotional activities. The Affiliate resources are some of the best in the business.
Financial Investment Required:
None. The Affiliate Program costs nothing to join, and there are no hidden costs or expenses.
---
---
Who are Ultimate Bundles? What would I be promoting?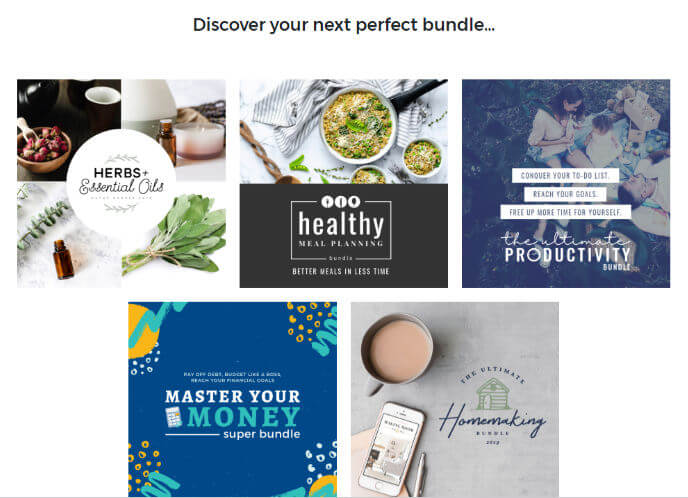 Founded by Stephanie Langford and Erin Odom, Ultimate Bundles work with 1200 brilliant content creators, bloggers and authors from around the world to put together bundles of quality products aimed at a specific niche.
For example, let's take a look at the Healthy Meal Planning niche as an example. The Ultimate Bundle aimed at this market contains the following:
1,072 whole food recipes
38 done-for-you meal plans
Nutritional info for every recipe
Indexed by dietary needs and health goals
Integrates with a Real Plan app.
This bundle retails at $47.97. A standard affiliate would receive $19.19 for one referral.
Summary
This is an excellent affiliate program with a range of products, backed by terrific resources to help with promotion.
---
If Ultimate Bundles doesn't match your target audience, check out some of the other Affiliate programs in the Affiliate Program Directory. You might find a better fit for your niche.