The Wealthy Affiliate is a network providing a training platform, web hosting, community and tools for Affiliate Marketers to develop their skills in marketing, selling, and delivering affiliate success. The network has been around since 2005, and there are reportedly 1.6 million members (Our feeling is that there are a lot less active members)
This is not a review of the courses or community – only the affiliate program.
There are two plans – A Free Membership and a Pro Membership. We cover the differences between the two in this post.
$23.50 Commissions per month per referral
Wealthy Affiliate also runs an in-house affiliate program where members can make a commission by referring new members to the program. The Affiliate Program offers a recurring $23.50 commission per referral for those on a pro membership. Members on a free Wealthy Affiliate membership plan get half the commission rate.
The target audience for the platform is new and existing affiliate marketers at beginner and intermediate level.
In addition to regular commissions, any affiliate who refers 300 members to the Wealthy Affiliate in a calendar year gets an all-expenses paid trip to Las Vegas in January.
The Wealthy Affiliate Network Affiliate Marketing Program (in a nutshell)
---
Merchant Information:
The Wealthy Affiliate – click to visit
Program Type:
Cost Per Sale (CPS) – You earn a commission when the merchant makes a sale.
Tiers:
Wealthy Affiliate is a single tier affiliate program.
Earnings / Commission:
$23.50 Commission per referral with recurring commissions each month.
Payment Schedule:
First day of each month.
Payment Method:
PayPal
Cookie Life:
Lifetime Cookie
Affiliate Marketing Materials / Training:
There are Banners, Links and Video courses to assist in your promotion of the platform. There is also an Affiliate Bootcamp course geared toward promoting the Wealthy Affiliate.
Financial Investment Required:
None. Although Wealthy Affiliate Pro Members get double the commission rates of Free Members.
---
What is the Wealthy Affiliate Network?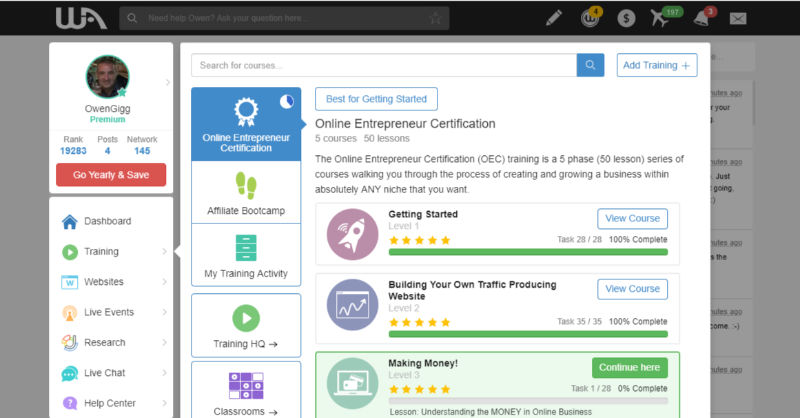 Founded by Kyle Loudon and Carson Lim in 2005, The Wealthy Affiliate is the closest thing to a University of Affiliate Marketing. There are structured training courses, weekly webinars, classrooms, forums, member-created courses and a strong online community.
The course is largely focused on Blogging.

---
---
---
Alternatives to the Wealthy Affiliate